A Tribute to Stephen Brooks, AEO's Outstanding Contribution to the Industry Winner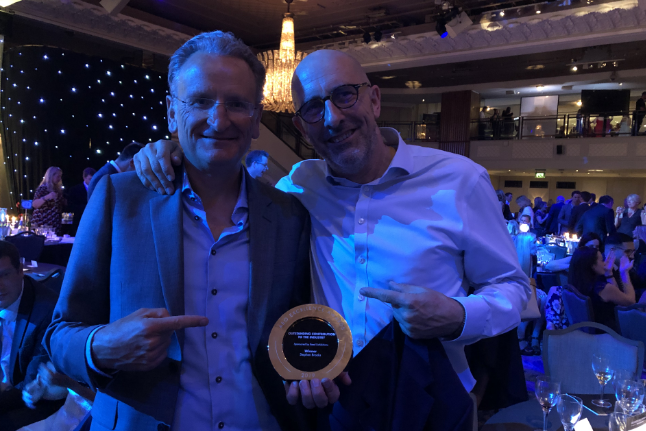 The recent AEO Excellence Awards saw industry luminary, Steve Brooks of Mack Brooks Exhibitions, named as this year's Outstanding Contribution to the Industry winner. It was an honour to have been invited by Steve to pay tribute to his contribution to the global industry over the last thirty years. Steve took what was a 'break even', three show business, stratospheric. His methodology was to be one of the pioneers into mainland Europe - Germany, Italy, France and beyond. AND his style is something that everyone can learn from – he went to every Mack Brooks event around the world to spend valuable 1-2-1 time with his customers. Those customers would tell him where they would next like him to clone the show…sometimes to cities in Russia and China he'd never heard of!
This has meant that not only has he employed countless people all over the world and through superb management developed them into today's industry leaders, but at leafy HQ in St Albans he employed 38 Germans, 10 Italians, 5 French and many others from numerous European countries.
"Steve has taken a small UK family-owned business to a serious player on the international scene," said Doug Emslie, Group Managing Director at Tarsus Group. "He was innovative in his team structure recruiting internationals in the UK rather than setting lots of local offices."
Steve was SO good at running his ever growing business that time was very much on his side. That he gives so much of that time to the industry and countless people in it, makes him an ultimate recipient of this prestigious award.
Stephen Brooks has been a leading light in our industry for many years but has also given much of his time to our industry in driving it forward," says Simon Kimble Chairman of Clarion Events. "Twice AEO Chairman, he was at the forefront of getting Excel supported by the industry and instrumental in guiding our industry through darker days. In receiving the AEO outstanding achievement award, I could think of no better beneficiary."
Congratulations, Steve!

!