Developing Future Leaders
It pays to pay attention! Why 76% of your eventprofs might be planning to leave
By Sam North, Founder of Inflection Point Coaching & Consulting.
It seems that almost every company in the event industry boasts about their employees. Statements like "Our people are our most important asset" or "Our future is our workforce" are found all over their websites, intranets and job adverts. But simply saying the words isn't enough though is it?
Real work needs to be put in to ensure that your workforce is motivated, challenged and resilient enough to weather rapidly changing and competitive markets - not to mention rising to the ever-rising customer expectations we see today.
You know that you need your staff firing on all cylinders as soon as they're in the door, so what do you have in place to nurture and develop these talented people.
In other words, how are you going to avoid them becoming one of the 76% that Lifeworks found are looking for another job?
And for you bottom line hawks - why should you even care? According to a 2017 study by Gallup, highly engaged staff create businesses with 21% higher profit, showing there is clear payback to taking time to think about what makes your workforce tick.
Horses for courses
As with all things, you need solid foundations. Co-created and detailed development plans allow employees to focus on their own bench marks, encouraging them to master their craft and see real progress in their skills, responsibilities and results.
Another key element of development is getting specific – both as a line manager, and as a leadership team. Who is, and who is not part of the succession plan? I encourage my clients to use management tools such as these '9 Blocker' and 'Fight-for or Flight-Risk' templates: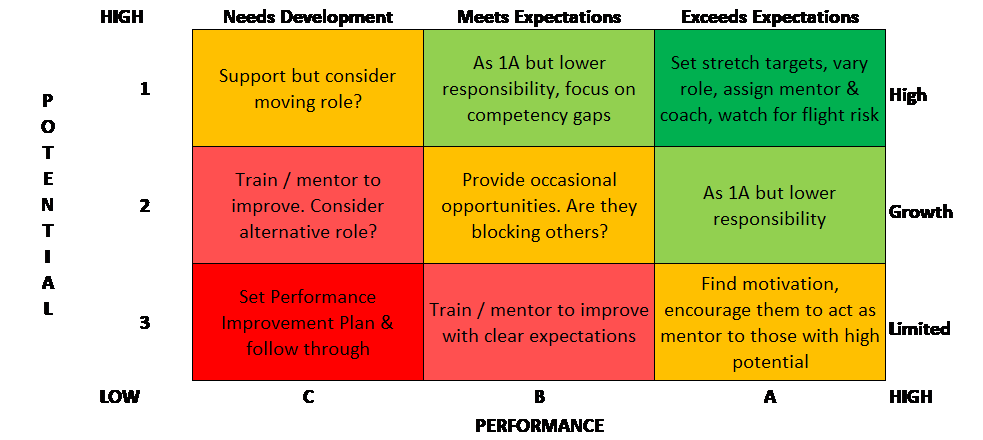 These help you and your managers make the right call on how to approach both the strongest and weakest talent, and gives a leadership team a clear picture of what the risks and opportunities are.
Progression is not a promotion
Whilst promotions are a wonderful way to recognise the great work a member of staff is doing, and certainly aids retention, no matter how thriving your business is it simply isn't possible to open up as many new job opportunities as your strongest talent will demand.
However losing staff - no matter what level of seniority - is an expensive and time-consuming problem. Not to mention the impact of losing your strongest talent to a competitor.
So, what can you do?
Firstly it's important to understand that today's talent won't wait for annual appraisals to know they have made some progression. Building regular communication and feedback into your management style, and working to develop a strong coaching culture, will see your team thrive.
Add to this informal 'Skip Level' meetings between senior leaders and mid-level staff work - Just remember to book these meeting's in advance (nobody likes an impromptu meeting with the boss!) and to keep things light.
Yes, this takes up some of your valuable time, but the more you put in to develop your strong talent at the beginning, and the greater connection they have with your business, the more you'll be able to handover to them in future.
Invite them onto the front line
If somebody within your team shows potential, be brave and make a connection with them. Show them that you are interested in their opinions and ask what they think needs to happen next.
This will this show future leaders that you respect their opinion, whilst encouraging them to switch their mind-set into thinking like a senior leader. This type of exchange provides exactly the right foundation you need to build from moving forward.
Also consider getting them in front of other senior management - future talent will thrive with ad-hoc projects 'on top' of their day job. This could be asking them to present a monthly report of the competitor landscape and what they think you can do to compete? Be creative here, but make sure the work they are doing is valuable and useful to you. Nobody likes to waste their time on pointless tasks.
Perhaps you could even look into reverse mentoring, where younger employees guide more experienced employees on things such as social media, SEO / anything tech related which is second nature to a 20 something. This will give future leaders responsibility, as well as confidence.
Very simply, the more they see themselves as gearing up to your level, the more inclined they will be to invest emotionally in the company.
Make it happen
You can start to safeguard your company's future by following these five steps. However, if you're serious about keeping future leaders in your business the process will need to go much deeper.
Re-educate: Make sure you and your senior management recognise the difference between progression and promotion

Be supportive: You'll need to encourage your managers to adopt a progressive approach towards their teams. This can be challenging to roll out and embed, which is where external guidance from a management coach can help.

Get creative: Make sure your future leaders know you're are interested in their progress. Think outside the box to keep them innovating for you.

Keep communicating: Keep the feedback regular, honest and specific. The more you can keep lines of communication flowing, the quicker you'll all get on the same page.

Use tools: Get specific on what needs to be done and name-names. Share this throughout your management team so everyone can play a part.
Creating successful talent management plans takes real effort, commitment and investment. But moving from marketing sound-bites to real results is well worth the effort.
After all, they are your greatest asset - right?